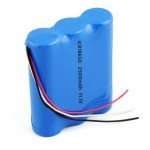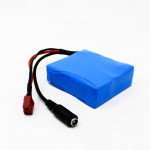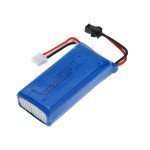 18650 Li-ion 2500mAh 11.1v 3S1P Battery Pack
18650 Li-ion 2500mAh 11.1v 3S1P Battery Pack
₹288.14
₹340.00 (incl GST)
₹288.14 (+18% GST extra)
18650 Li-ion 2500mAh 11.1v 3S1P Protected Battery Pack
Description
18650 Li-ion 2500mAh 11.1v 3S1P Battery Pack
This battery pack is made up of best quality tested  ICR 18650 2500mAh 20C Lithium-Ion Batteries . It is small in size and weight compared to Ni-Cd, Ni-MH, and Lead Acid Batteries. With the inbuilt Charge protection circuit, the battery pack can be directly charged with the DC power Adapter, so need not use the specialised battery chargers and worry about overcharging.
We build these battery packs in diverse range to fulfil 7.4V to  14.8 V and differential capacity requirement. This battery pack is very convenient to recharge and install in your project requirement with 5mm DC female jack for charging and  connecting to your applications.

Disclaimer : Actual product may vary from the product photograph displayed above. Photograph just for reference.
---
Only logged in customers who have purchased this product may leave a review.