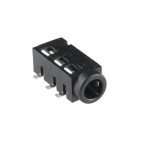 3.5 MM Audio Jack
₹15.00 (incl GST)
₹12.71 (+18% GST extra)
Description
3.5 MM Audio Jack
3.5 MM Audio Jack used for DIY project.
This is a 3.5 mm Audio jack Female TRRS SMD. TRRS connectors are the audio-style connectors that you see on some phones, MP3 players and development boards.
TRRS stands for "tip, ring, ring, sleeve," which reflects the fact that, unlike a standard stereo connector. This actually has three conductors and a ground. Some devices use the extra conductor for a microphone (like hands-free headsets); or to carry a video signal (like in some MP3/MP4 players).
---
Only logged in customers who have purchased this product may leave a review.