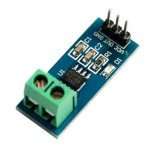 Current Sensor 5A Module ACS712

Current Sensor 5A Module ACS712
₹120.34
₹142.00 (incl GST)
₹120.34 (+18% GST extra)
Current Sensor 5A Module ACS712 to measure AC/DC current up to 5A.
Description
Current Sensor 5A Module ACS712
Current Sensor 5A Module ACS712 to measure AC/DC current up to 5A. The sensor can even measure high AC mains current and is still isolated from the measuring part due to integrated hall sensor. The board operates on 5V. ACS712 current sensor operates from 5V and outputs analog voltage proportional to current measured on the sensing terminals. One can simple use a microcontroller ADC to read the values.
Sensing terminal can even measure current for loads operating at high voltages like 230V AC mains while output sensed voltage is isolated from measuring part. Provides up to 3000 VRMS galvanic isolation. The low-profile, small form factor packages are ideal for reducing PCB area over sense resistor op-amp or bulky current transformer configurations. The low resistance internal conductor allows for sensing up to 5A continuous current. Providing typical output error of 1%.
Key Points:
Low-noise analog signal path
Device bandwidth is set via the new FILTER pin
5 µs output rise time in response to step input current
80 kHz bandwidth
Total output error 1.5% at TA = 25°C
Small footprint, low-profile SOIC8 package
1.2 mΩ internal conductor resistance
2.1 kVRMS minimum isolation voltage from pins 1-4 to pins 5-8
185 mV/A output sensitivity
5.0 V, single supply operation
Output voltage proportional to AC or DC currents
Factory-trimmed for accuracy
Extremely stable output offset voltage
Nearly zero magnetic hysteresis
---
Only logged in customers who have purchased this product may leave a review.