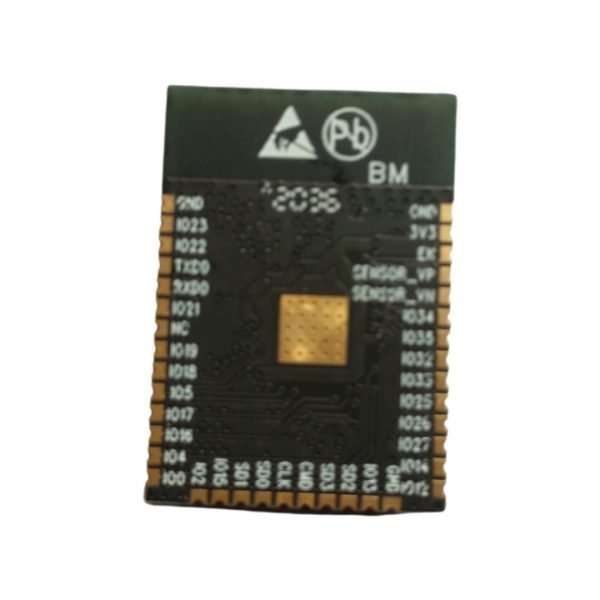 ESP32 Chip

₹399.00 (incl GST)
₹338.14 (+18% GST extra)
Description
ESP32 Chip
ESP32 is a single 2.4 GHz Wi-Fi-and-Bluetooth combo chip designed with the TSMC ultra-low-power 40 nm technology. It is designed to achieve the best power and RF performance, versatility, and reliability in a wide variety of applications and power scenarios.
Ideal for low-power applications, the ESP32 SoC features fine-grained clock gating, multiple power modes, and dynamic power scaling. A low duty cycle is used to minimize the amount of energy that the ESP32 SoC expends. The output of the power amplifier is also adjustable, thus contributing to an optimal trade-off between communication range, data rate, and power consumption. The ESP32 SoC is highly-integrated with in-built antenna switches, power amplifiers, low-noise receive amplifiers, and power management modules. ESP32 adds priceless functionality and versatility to IoT applications with minimal Printed Circuit Board (PCB) requirements.
Features:
Two low-power Xtensa 32-bit LX6 microprocessors
ESP32-D0WD core
Supports multiple external QSPI flash and SRAM chips
32Mbits 3.3V SPI flash
40MHz crystal
Onboard PCB antenna for ESP32-WROOM-32
U.FL connector (which needs to be connected to an external IPEX antenna) for ESP32-WROOM-32U
Advanced power-management technologies
Specifications:
802.11 b/g/n (802.11n up to 150Mbps) Wi-Fi protocol
Bluetooth v4.2 BR/EDR and BLE
SD card, UART, SPI, SDIO, I2C, LED PWM, Motor PWM, I2S, and IR module interfaces
Hall sensor
2.7V to 3.6V operating voltage supply
80mA average operating current
-40C to 85C operating temperature range
---
Only logged in customers who have purchased this product may leave a review.