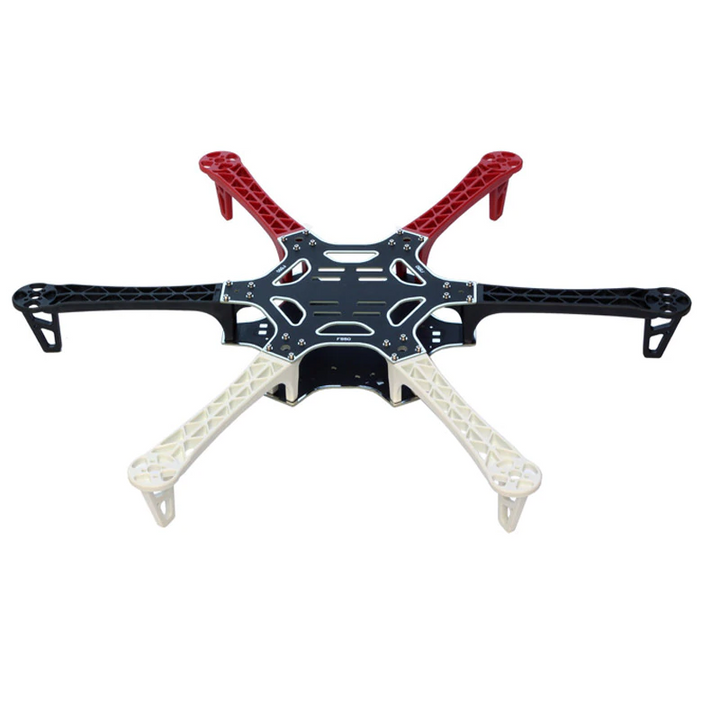 F550 / Q550 Hexa-Copter Frame, Landing Gears and Integrated PCB Kit
F550 / Q550 Hexa-Copter Frame, Landing Gears and Integrated PCB Kit
₹1,245.76
₹1,470.00 (incl GST)
₹1,245.76 (+18% GST extra)
F550 / Q550 Hexa-Copter Frame, Landing Gears and Integrated PCB Kit
Description
Additional information
Reviews (0)
Description
This F550 / Q550 Quadcopter Frame is made from 35% of Glass Fiber which makes it tough and durable. They have arms of ultra-durable Polyamide-Nylon which are the stronger molded arms having a very good thickness so no more arm breakage at the motor mounts on a hard landing. The arms have support ridges on them, which improves stability and provides faster forward flight.
They are strong, light, and have a sensible configuration including a PCB (Printed Circuit Board) with which you can directly solder your ESC's to the Quadcopter. So, making the Quadcopter build fast and easy. So, it avoids the use of extra PDB and makes the mounting clean and neat.
Note: 
The dimensions and weight may have ±5% error.
Landing gears are not included in the kit.
Refer to the attachments for schematics for Dimensional Details
---
Features:
Made of advanced engineering material, super strong & smooth
Easy to assemble and disassemble.
The frame is tough and durable.
The main glass fiber frame has good strength.
The arm equips support ridges for better and faster forward flight.
Features pre-threaded brass sleeves.
Large mounting tabs for camera mounting.
In-built power distribution board.
Arm mounting holes: 3 mm.
---
Package Includes:
1 x F550 / Q550 Quadcopter Frame (Top and Bottom) with Integrated PCB.
6 x F550 / Q550 arms (2 Red + 2 White+ 2 Black).
1 x Landing Gear
1 x Accessories set (24 x M2.5 * 5mm
---
Only logged in customers who have purchased this product may leave a review.