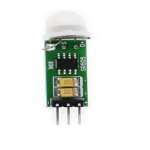 HC-SR505 Body Sensor
HC-SR505 Body Sensor
₹1,651.82
₹1,949.15 (incl GST)
₹1,651.82 (+18% GST extra)
Description
HC-SR505 small body sensing module is based on infrared technology, automatic control products, high sensitivity, high reliability, ultra-small, ultra-low-voltage operation mode. Widely used in various auto-sensing of electrical equipment, especially battery-powered automatic control products.
Technical parameters:
Operating Voltage Range: DC4.5-20V
Static current: <60uA
Output level: High 3.3V / Low 0V
Trigger: repeatable trigger (default)
Delay time: Default 8S + -30% (can be customized range of a few tenths – tens of minutes)
PCB Dimensions: 10 * 23mm
Induction angle: <100 degree cone angle
Induction distance: 3 meters
Working temperature: -20 – +80 degrees
Sensor Lens Dimensions: Diameter: 10mm (default)
---
Only logged in customers who have purchased this product may leave a review.