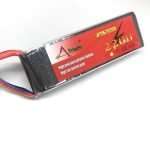 ABSD Lipo Battery – 2200mAh 11.1V for Quadcopter
ABSD Lipo Battery – 2200mAh 11.1V for Quadcopter
₹1,228.81
₹1,450.00 (incl GST)
₹1,228.81 (+18% GST extra)
Polymer Lithium Ion Battery – 2200mAh  11.1V for Quadcopter, drone ,robot and other science project.
Description
Additional information
Reviews (0)
Description
ABSD Lipo Battery – 2200mAh 11.1V for Quadcopter
Description:
This is a good Li-po battery for projects like small robotics and radio-controlled projects. With high discharge rates and big capacity, it can nicely feed the stomach of your projects. This high power output battery has very special internal structure, which requires dedicated balance charger to charge. We suggest IMAX B6 or Li-Poly Battery Charger as a suitable mate.
Specifications:
Capacity (mAh) : 2200
Weight (gm) : 175
Output Voltage : 11.1 V
Charge Rate : 1-3 C (Recommended)
Discharge Plug : XT-60/T plug
Balance Plug : JST-XH
Length (mm) : 106
Width (mm) : 34
Height (mm) : 23
Max. Charge Rate : 5 C
Max. Continuous
Discharge : 30C(66.0A)
Note: Image could be change on actual product.
---
Only logged in customers who have purchased this product may leave a review.