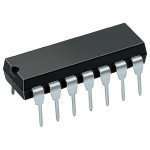 LM3915 LED Bar Display Driver IC
LM3915 LED Bar Display Driver IC
₹67.80
₹80.00 (incl GST)
₹67.80 (+18% GST extra)
LM3915 LED Dot/Bar Display Driver IC
Description
Additional information
Reviews (0)
Description
LM3915 LED Bar Display Driver IC
LM3915 LED Dot/Bar Display Driver IC used for DIY project.
The LM3915 is a monolithic integrated circuit that senses analog voltage levels and drives ten LEDS, LCDs or vacuum fluorescent displays, providing a logarithmic 3 dB/step analog display. One pin changes the display from a bar graph to a moving dot display. LED current drive is regulated and programmable, eliminating the need for current limiting resistors. The whole display system can operate from a single supply as low as 3V or as high as 25V. The IC contains an adjustable voltage reference and an accurate ten-step voltage divider. The high- impedance input buffer accepts signals down to ground and up to within 1.5V of the positive supply. Further, it needs no protection against inputs of ±35V.
---
Only logged in customers who have purchased this product may leave a review.