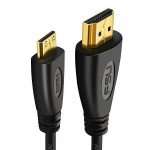 Mini HDMI To HDMI Cable
Mini HDMI To HDMI Cable
₹110.17
₹130.00 (incl GST)
₹110.17 (+18% GST extra)
Description
Mini HDMI To HDMI Cable
Mini HDMI To HDMI Cable used for DIY project.
MX HDMI 19 Pin to MX Mini HDMI (High-Definition Multimedia Interface) cable is the first and only industry-supported, uncompressed, all-digital audio/video interface. MX HDMI Cables supports standard, enhanced, or high-definition video and multi-channel digital audio on a single cable.
Features and Specifications:-
At one end it has a MX Mini HDMI and at other end it has a 19 Pin MX HDMI connector.
MX HDMI Adaptor has Attractive Design and Looks.
MX HDMI Adaptor has 24 k Gold Plated connector plug for high grad signal transmission & high resolution.
MX HDMI Adaptor has Suitable for high definition video (720p and 1080i).
MX HDMI Adaptor has Low loss even over long run.
MX HDMI Adaptor has Improved signal transfer with high grade oxygen-free copper wire.
MX HDMI Adaptor has High quality, Multi shield cable material according to HDMI standard.
---
Only logged in customers who have purchased this product may leave a review.