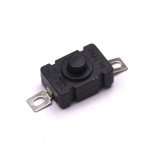 MINI ON/OFF PUSH-BUTTON SWITCH
MINI ON/OFF PUSH-BUTTON SWITCH
₹10.17
₹12.00 (incl GST)
₹10.17 (+18% GST extra)
A mini on/off switch type push button
Description
Push once to turn on, push again to turn off, push again to turn on , one last push and it's off! It is essentially a push-button rocker switch that connects and disconnects.
This mini on/off button makes an excellent power switch or mode switch. They are often called flashlight switches because they are used in small flashlights. It can reliably manage up to 500mA and up to 12VDC.
This is a very satisfying switch with large flat contacts that are easy to weld or clip on. Best of all, there are holes in both contacts, so you could use it in a portable project where the switch is sewn with lead wire.
Rated load: 12V @ 0.5A
Contact Resistance : ≤mΩ
Operating temperature range: -25ºC ~ 70ºC
Operating force: 5N ~ 12N
Product Weight: 0.7g
Related
---
Only logged in customers who have purchased this product may leave a review.