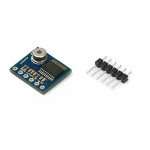 MLX902615
₹1,999.00 (incl GST)
₹1,694.07 (+18% GST extra)
Description
MLX902615
The MLX90615 is a miniature infrared thermometer for non-contact temperature measurements. Both the IR sensitive thermopile detector chip and the signal conditioning ASIC are integrated in the same miniature TO-46 can.
Factory calibrated in wide temperature range: -20 to 85°C for sensor temperature and -40 to 115°C for object temperature
High accuracy of 0.5°C over wide temperature range (0..+50 C for both Ta and To)
Medical accuracy of 0.2°C in a limited temperature range
Measurement resolution of 0.02°C
SMBus compatible digital interface for fast temperature readings and building sensor networks
Customizable PWM output for continuous reading
3V supply voltage with power saving mode
---
Only logged in customers who have purchased this product may leave a review.