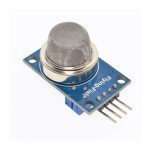 MQ-6 LPG Gas Sensor Module
MQ-6 LPG Gas Sensor Module
₹118.64
₹140.00 (incl GST)
₹118.64 (+18% GST extra)
MQ-6 Liquefied Gas Isobutane Propane LPG Gas Sensor Module For Arduino
Description
Additional information
Reviews (0)
Description
MQ-6 LPG Gas Sensor Module
Features :
Sensitive material MQ-6 gas sensor is used to clean the air in the lower conductivity of tin dioxide (SnO2). When there is the environment in which the combustible gas sensor , conductivity sensor with increasing concentration of combustible gases in air increases .
Using a simple circuit to convert the change in conductivity of the gas concentration corresponding to the output signal.
MQ-6 gas sensor for propane , butane , liquefied petroleum gas sensitivity is high, natural gas and has a good sensitivity. This sensor can detect a variety of flammable gas , is a low-cost sensors for a variety of applications.
Suitable for home or industrial LPG ( liquefied petroleum gas ) , butane , propane , LNG ( liquefied natural gas ) detection devices. Excellent resistance to ethanol vapor , smoke interference.
Electrical Performance:
Dection of gas: Liquefied gas /Isobutane/Ppropane/LPG
Dection of Concentration:300-10000ppm
Input voltage: DC5V
Power consumption (current): 150mA
DO output: TTL digital quantities 0 and 1 (0.1 and 5V)
AO output: 0.1-0.3V (relatively non-polluting), the highest concentration voltage is about 4V
Using the chip: AT89S52
Crystal: 11.0592MHZ
Baud rate: 9600
Compilation environment: Keil
Package Included:
1 x MQ-6 Gas Sensor Module
---
Only logged in customers who have purchased this product may leave a review.