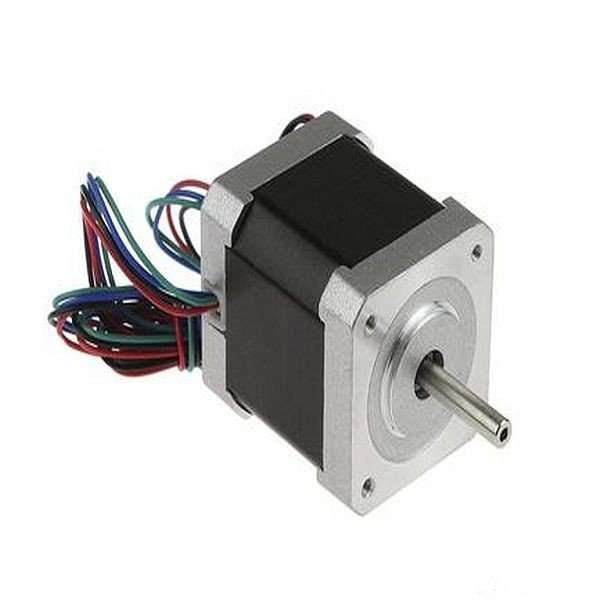 NEMA17 4.2 kg-cm Stepper Motor

NEMA17 4.2 kg-cm Stepper Motor
₹519.49
₹613.00 (incl GST)
₹519.49 (+18% GST extra)
NEMA17 Stepper MOTOR DC Gear unipolar motor offers custom engineering solutions.
Step Angle – 1.8°.
Current –  1.7 A /Phase.
Holding Torque – 4.2 kgcm.
Voltage – 12~24VDC
No of Leads – 4.
Description
Additional information
Reviews (0)
Description
NEMA 17 is a common size used in 3D printers and smaller CNC mills. Smaller motors find applications in many robotic and animatronic applications. The larger NEMA frames are common in CNC machines and industrial applications.
The NEMA numbers define standard faceplate dimensions for mounting the motor. They do not define the other characteristics of a motor. Two different NEMA 17 motors may have entirely different electrical or mechanical specifications and are not necessarily interchangeable.
Note :
The Nema17 4.2 kg-cm Stepper motor dimensions and weight may have  ±2% error.
Resonances can occur because of improper instalment.
 Not easy to operate at extremely high speeds.
---
Features :
Input pulse decides the rotation angle of the motor.
High accuracy of around 3 to 5% a step.
Provides good starting, stopping and reversing.
Control of this motor is less costly because of the exclusion of complex control circuitry.
The speed is proportional to the frequency of the input pulses.
---
Package includes :
1 x Nema17 4.2 kg-cm stepper motor.
---
Tutorial:
---
Only logged in customers who have purchased this product may leave a review.