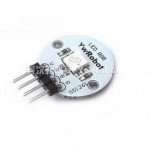 RGB LED Moudle
₹60.00 (incl GST)
₹50.85 (+18% GST extra)
Description
Additional information
Reviews (0)
Description
Unit 5050 SMD Full Color LED
Can display a variety of colors, very beautiful
Features
Excellent PCB design, very beautiful
Trichromatic?RGB?Full-color LED
Public termination + 5V, active-low control terminal
Use PWM gram can duce different color changes in effect
Suitable for 51 / AVR / AVR / ARM / arduino compatible other platforms
??????????????????????????????
ducts include
An expansion board
vides schematics, Arduino compatible demo?Network transmission?
Note: The demo only test module is good or bad effects of other buyers need their own gramming
Note that GND is connected to V, VCC then R B red green blue G
---
Only logged in customers who have purchased this product may leave a review.