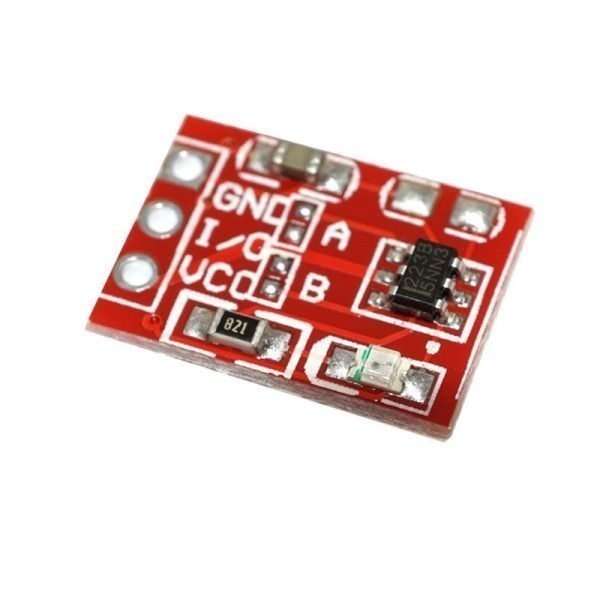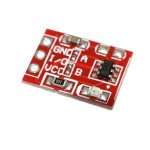 TTP223 Touch Sensor Module
TTP223 Touch Sensor Module
₹21.19
₹25.00 (incl GST)
₹21.19 (+18% GST extra)
TTP223 Touch Sensor Module
Description
Additional information
Reviews (0)
Description
TTP223 Touch Sensor Module
The TTP223 Touch Key Module is based on a touch-sensing IC (TTP223) capacitive touch switch module. A capacitive touch sensor module based on the dedicated TTP223 touch sensor IC. The module provides a single integrated touch sensing area of 11 x 10.5mm with a sensor range of ~5mm.
Trigger-setting mode: (1- > Short ; 0- > No Short)
AB=00: No-lock High TTL level output
AB=01: Self-lock High TTL level output
AB=10: No-lock Low TTL level output
AB=11: Self-lock Low TTL level output
Features :
Supports momentary or latching/toggle modes.
Supports Active High or Active Low output signal modes.
Dimensions : 15mm x 11mm.
Input Voltage : 2 Volt – 5.5 Volts DC.
The response time max ~ 60mS in fast mode, ~220mS at low power mode @VDD=3V.
Sensitivity can adjust by the capacitance(0~50pF).
Have two kinds of sampling length by pad option(SLRFTB pin).
Stable touching detection of the human body for replacing traditional direct switch key.
Provides Fast mode and Low Power mode selection by pad option(LPMB pin).
Provides direct mode、toggle mode by pad option(TOG pin).
Open drain mode by bonding option, OPDO pin is open drain output, Q pin is CMOS output.
All output modes can be selected active high or active low by pad option(AHLB pin).
Have the maximum on time 100sec by pad option(MOTB pin).
Have external power-on reset pin(RST pin).
After power-on have about 0.5sec stable-time, during the time do not touch the keypad, and the function is disabled.
Auto calibration.
Re-calibration period is about 4.0 sec when the key has not be touched.
---
Package Includes :
1 x TTP223 TOUCH  MODULE
---
Only logged in customers who have purchased this product may leave a review.