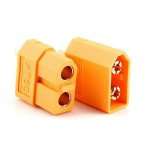 XT60 Connector
₹45.00 (incl GST)
₹38.14 (+18% GST extra)
The Nylon XT60 Connectors Male/Female for quadcopter battery connection.
Description
XT60 Connector
These connectors are made from high-temp nylon with gold-plated spring pins or sockets molded in. The shape of this generic XT60 prevents reverse polarity, and when plugged in the connection is super-solid.
Perfect for applications that require a high current draw, up to 65A continuous draw. Sold in pairs of 1 male and 1 female connector. This connector is perfect to connect your RC and Robotics Electronics to a Battery. Made from high-temp Nylon and gold plated spring connectors, both included in the injection mould at the time when forming the connector. The XT60 ensures a solid high-amp connection, perfect for applications up to and beyond 65A constant. XT60 is designed to be more reliable and a better quality connection than Deans T-Connectors.
Package includes :1 Male and 1 Female XT60 Connector.
Specifications and Features :
current carring capacity upto 60 – 65 amp
Colour : Yellow
Material : Nylon and Gold plating
---
Only logged in customers who have purchased this product may leave a review.